LOW LOADER INTRODUCTION TO
DOHERTY

HEAVY HAULAGE
Doherty Heavy Haulage operate a modern and well-maintained fleet of low loaders throughout the UK. Our regular routes take us up and down the M1, M6, M42 and the M69 motorways. Our skilled team are also heavy haulage specialists in the transportation of earth-moving equipment throughout the UK countryside and rural areas.
The variety of trailers and units we operate allow us to offer bespoke packages to our customers, ensuring that we are able to ensure delivery of their heavy machinery in a safe and, a cost-effective way, each and every time.
Our low loaders and specifically chosen trailers leave us expertly placed to move heavy, over-sized and abnormal loads for a range of services within the construction industry, the mining industry and the rail industry.
A large part of this work involves moving large bulky heavy vehicles which can weigh up to 250 tonnes. The heavy haulage of earth moving machines is fully pre-planned and executed by our experienced team.
Doherty Heavy Haulage have a range of trailers available – from 4 axle step frames to 8 axle low bed and modular trailers. Our 4 to 8 axle low beds are equipped with full power steering, hydraulic suspension, beam and/or pendle axles and variety of other configurations.
We have facilities to load plant via ramps on the rear of step frames, via side load, or front load on low beds. We also have the option of using perimeter or beam/spine beds.
The air or hydraulic suspension options and full hydraulic power steering on our trailers means that we can expertly manoeuvre our units and trailers on site and into tight access areas without issue.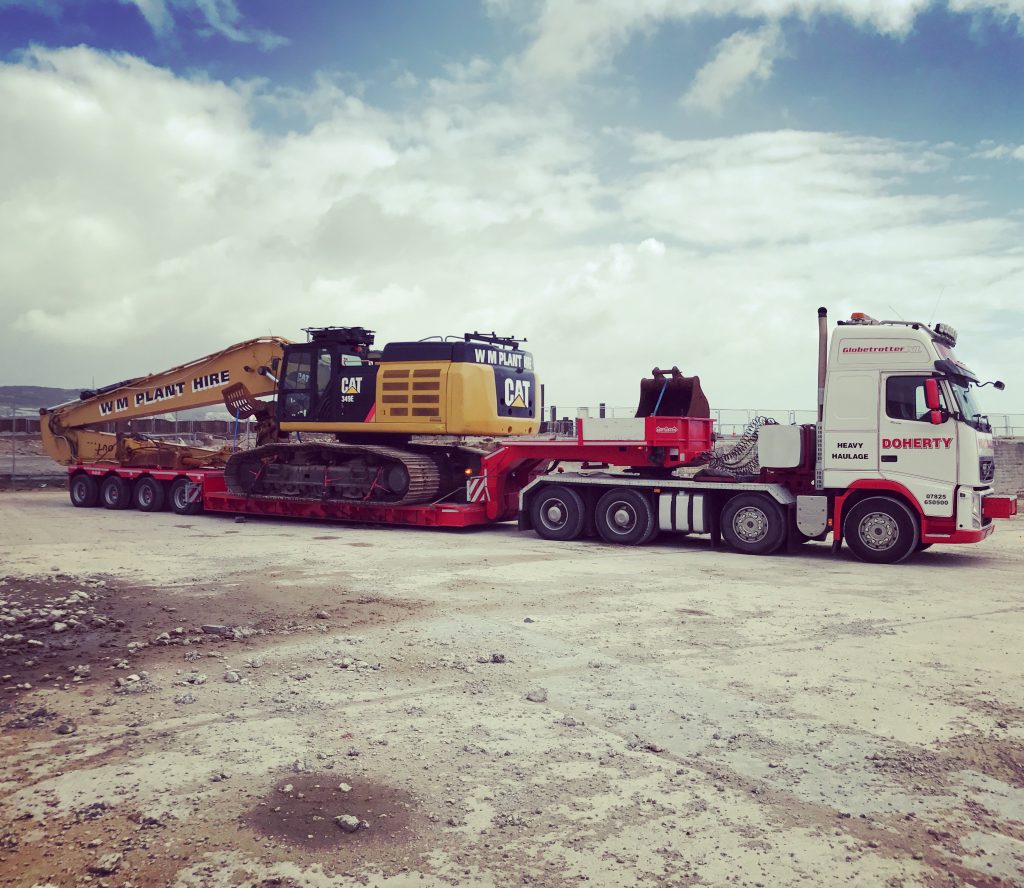 Our fleet of low loaders move all types of plant including:
Excavators
Dozers
Dump Trucks
Mobile Cranes
Crawler Cranes
Pilling Rigs
Crushers
Screeners
Oversized loads are our speciality! Contact us today on 07825 650500.

LOW LOADER DEMOLITION INDUSTRY
Demolition remains a substantial sector within the construction industry. Whether the demolition relates to the construction of new and improved roads, railway sector works, commercial building, or other smaller projects such as the re-structuring or alteration of a residential building, regular demolition works take place throughout the UK every day.
Doherty Heavy Haulage have a wide range of skills and knowledge within this sector in the transportation and movement of heavy equipment and plant. All our drivers are highly experienced in loading and unloading large demolition equipment.
We understand the needs of our customers, we understand that sometimes it is not feasible to move a high-reach excavator without the long boom being removed. We will plan routes, making sure street furniture and obstacles will not impede the arms whilst negotiating through tight spots.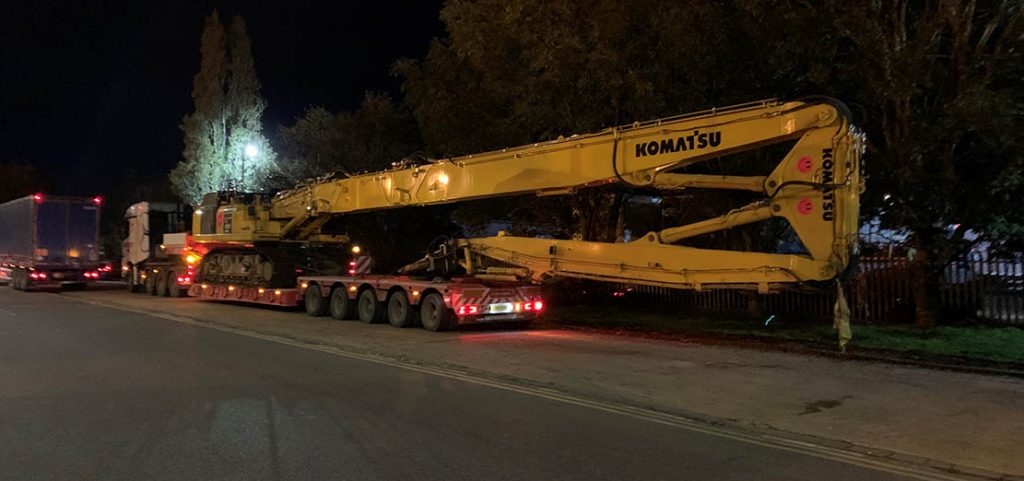 We have a wide range of trailers to suit each piece of equipment, whether it be low bed or step trailers. Our lorries are constantly kept busy moving plant such as, crushers, screeners, exacavators, high-reach exacavators, loading shovels, track shovels and a vast array of attachments throughout the UK on a daily basis.
Call our heavy haulage specialist team today on 07825 650500.

LOW LOADER
CONSTRUCTION

INDUSTRY
In the construction industry, earth moving heavy equipment is essential for all types of work from residential building to large scale commercial projects. This has been one of Doherty Heavy Haulage primary sources of work for many years. The haulage of construction machinery and plant continues to be a growth area over the years due to the new innovations of larger and more expensive machinery.
At Doherty Heavy Haulage we have many years of experience and knowledge in moving construction plant, machinery and equipment such as:
Excavators from 1 tonne to 100 tonnes
Dozers
Forklifts
Telehandlers
Dumpers
Dump Trucks
Rubber Ducks
Our contracts for the transportation of machinery and plant, for some of the UK largest engineering companies, mean that we know the challenges involved in moving the right machinery, with the right attachments, to and from construction sites – whether this be housing estates, commercial projects, highway/motorway construction or marine works. Call us today on 07825 650500 for a quick quote for your move.

LOW LOADER MINING & QUARRY INDUSTRY
Our heavy haulage tractors and trailers are often tasked to move specialist mining and quarry plant throughout the UK and within sites. 
Our low loaders are also used to haul earthmoving heavy machinery vital to the daily operation of quarries and mining sites. 
We understand the implications of down time on machines and are happy to work closely with plant mechanics and tyre fitters to facilitate the removal of wheels, cabs, buckets and other varied configurations, for preparation of machinery and plant ready for transportation.
We have experience in moving the following types of machinery and plant associated with the mining and quarry industries:
Articulated and Rigid Dump Trucks
Drilling Rigs
Loading Shovels
Dozers
Graders
Motorscrapers
Crushers
Screeners
Excavators

LOW LOADER
AGRICULTURAL

INDUSTRY
The agricultural industry is one of the biggest industries in the UK, occupying 70% of the country's land area. Farming in the UK utilises some of the biggest machinery and most valuable machinery. At Doherty Heavy Haulage, we work closely with farmers across the UK in transporting heavy machinery, such as, combine harvesters, tractors, telehandlers, foragers, bailers and feeders.
There is a huge demand amongst farmers for pre-owned farming machinery and equipment and we are frequently tasked with transporting used farming machinery from one farm to another farm across the UK.
We also find ourselves in public auctions across the UK collecting machinery and plant from sale rooms to deliver to farm throughout the UK. 
Our flexible team are experts in the transport and delivery of farming machinery. When transporting heavy farming equipment, we do so safely and on time. We pre-plan a chosen route and carry out any legal requirements prior to the move, be it alerting the authorities of the movement of an abnormal load and/or providing an escort vehicle if necessary. 
We aim to take the stress of moving heavy farming equipment and doing so in a cost-effective way. We operate smaller low loaders which are ideal for farm access and smaller farm equipment. These low loaders have built in hydraulic ramps which make light work of loading agricultural equipment. 
For further information on the road transport of agricultural plant, machinery and equipment, please call 07825 650500 today.

Low Loader Power Access Platforms
The use of powered access and mobile elevation work platforms (MEWPs) is becoming increasing popular within the construction industry.
At Doherty Heavy Haulage, we can supply smaller specialist vehicles which are ideal to provide cost-effective transportation of smaller equipment such as:
Cherry Pickers

Scissors Lifts

Spider Platforms

Boom Lifts

Power Towers
Our drivers are IPAF trained giving you the confidence to know that we are moving your power access equipment in the safest possible way.
Contact our heavy lifting specialist team today on 07825 650500 to receive top class service in the transport of powered access equipment.